Tratamientos De Agua - Brightwell Aquatics Neotiger Kh+/gh+
Disponible 11 días después de tu compra
Garantía
Garantía del vendedor
Garantía del vendedor: 30 dias
Medios de pago
Tarjetas de crédito
¡Paga en hasta 48 cuotas!
Tarjetas de débito
Efectivo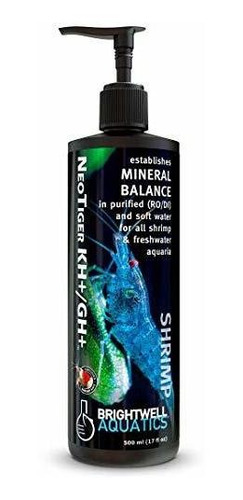 Características principales
Descripción
------
------ MARIKDITAS
------ By MS
------
NOMBRE EN ESPAÑOL: Tratamientos de Agua - Brightwell Aquatics NeoTiger KH+/GH+ - Establishes Mineral Balance in Purified and Soft Water for Shrimp and Freshwater Aquariums,
NOMBRE EN INGLES: Brightwell Aquatics NeoTiger KH+/GH+ - Establishes Mineral Balance in Purified and Soft Water for Shrimp and Freshwater Aquariums,
* Establishes an optimal mineral balance in water that has been purified (reverse osmosis, deionization) or is exceedingly soft (well water in forested regions) for all freshwater shrimp aquaria, as well as aquaria housing fishes indigenous to forested and-or riverine habitats.
* Provides a beneficial ratio of potassium, calcium, magnesium, and sodium, elements which are vital to the overall health and osmoregulation of fishes, invertebrates, and many aquatic plants.
* May be used to establish water parameters, to replenish depleted concentrations in tanks that rarely receive a water change, and to re-establish beneficial mineral concentrations in aquaria following large water changes.
* Formulated utilizing extensive data on the ionic composition of river water from several tropical forested regions.
Size:8.45 Fl Oz (Pack of 1)Shrimp, other invertebrates, and aquatic plants require specific elements to be present in the water to aid with osmotic balance and ensure proper biochemical function, contributing to overall long-term health and survival. NeoTiger KH+/GH+ fulfills this requirement with a formulation based on data compiled from up-to-date aquatic research. Calcium is required for blood clotting, bone formation, and several metabolic processes in fish, and is required for cell wall stability-permeability and enzymatic processes in plants. Potassium and Sodium are of extreme importance to aquatic animals, as they are required for proper neurological and muscular functioning. Potassium is also required for protein synthesis, water and charge balance, and enzyme activation in plants. Magnesium is a component of chlorophyll and is utilized in enzyme activation. Sulfur is a component of proteins and the coenzymes that are involved with nutrient utilization and growth. Silicon, as silica, is an important component of plant cells, helping increase their strength and improving root growth, and acts as a buffer against pH shift. Note that TDS and GH are not measuring the same ionic concentrations, and therefore they do not necessarily have a direct conversion; GH is related to the sum of divalent cations (predominantly calcium and magnesium) in solution, whereas TDS (total dissolved solids) measures the concentration of conductive substances in solution. This information is provided for reference purposes only. In general, aquatic habitats located in forested regions have a relatively-low concentration of dissolved inorganic substances, hence the general hardness and TDS are also low. NeoTiger KH+/GH+ is formulated to adjust water chemistry in aquaria housing fishes and plants indigenous to nearly every aquatic habitat, however it is recommended that Rift Lake Chemie be used to remineralize purified water meant for use in aquaria housing fishes from the East African Rift Lakes, as it has been formulated specifically for that purpose.
----------------------------------------------------------------------------------
------ POLITICAS
----------------------------------------------------------------------------------
Todos nuestros productos son traídos del exterior; por ello, los tiempos de entrega son a:
* Ciudades Principales: de 5 a 10 días hábiles
* Otras Ciudades: de 7 a 12 días hábiles
CONDICIONES DE LA VENTA:
* Somos una tienda virtual que facilita la obtención de tus productos con proveedores desde el exterior
* La obtención de los artículos a Medida (Talla o Color) deberán ser consultados a través del chat público de ML y en caso de compra: estos deben ser consultados y confirmados en el chat Post-Venta.
NUESTRA GARANTÍA: Nuestros proveedores nos ofrecen una garantía de 30 días la cual extendemos a nuestros clientes, esta cubre daños por defectos del material o errores en la fabricación. NO cubre mala manipulación por parte del usuario.
IMPORTANTE: Debe conservar el embalaje de su producto en buen estado, o en su defecto la etiqueta; así mismo, recuerde que no se aceptan devoluciones por error en la selección del producto.

Preguntas y respuestas
¿Qué quieres saber?
Nadie ha hecho preguntas todavía.
¡Haz la primera!