Puerta Para Gatos, Puerta De Entrada Para Mascotas, Ferromag
Precio anterior: 146586 pesos
en 12x 10356 pesos$10.356 sin interés
Envío internacional gratis
Garantía
Garantía del vendedor
Garantía del vendedor: 3 meses
Medios de pago
Tarjetas de crédito
Tarjetas de débito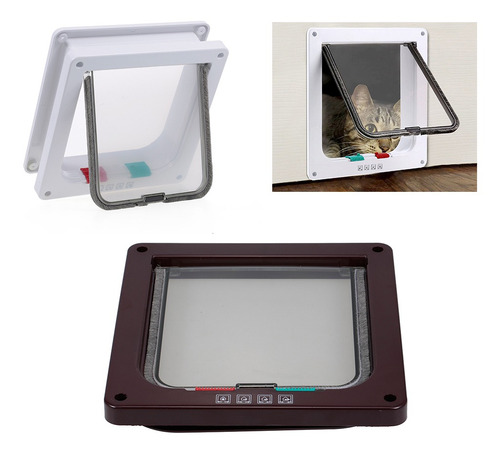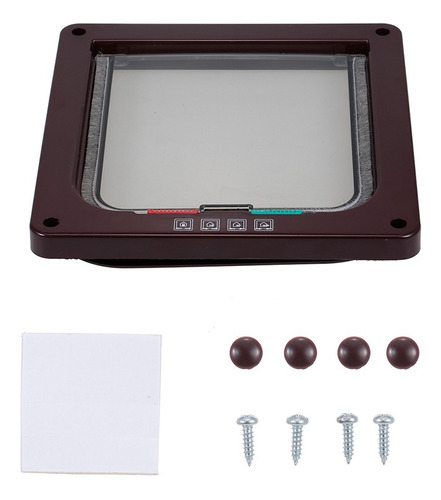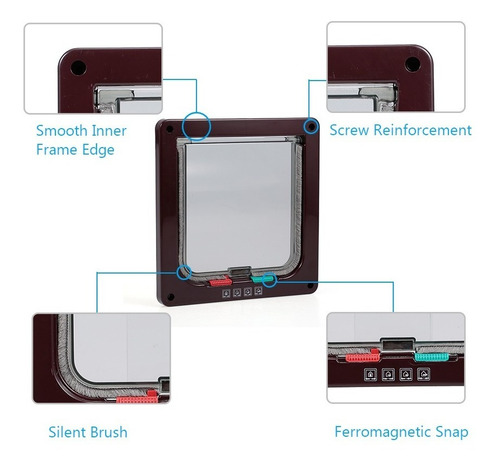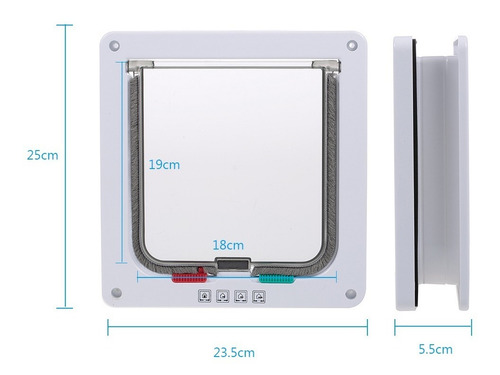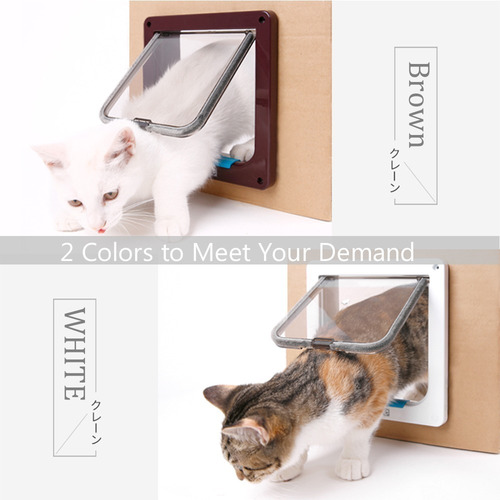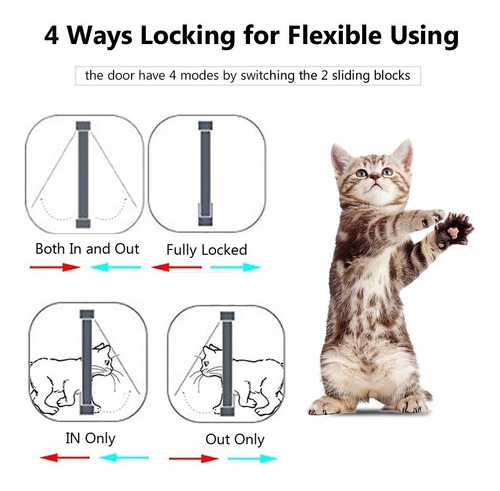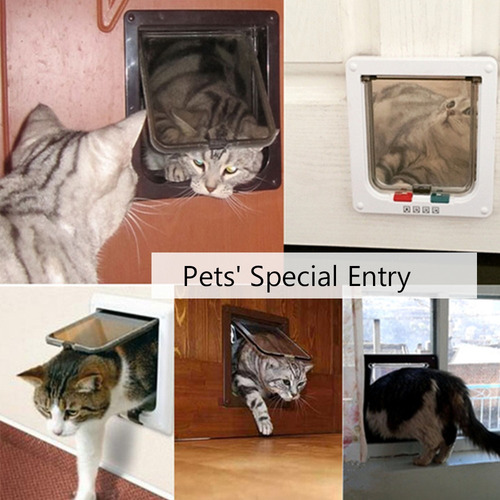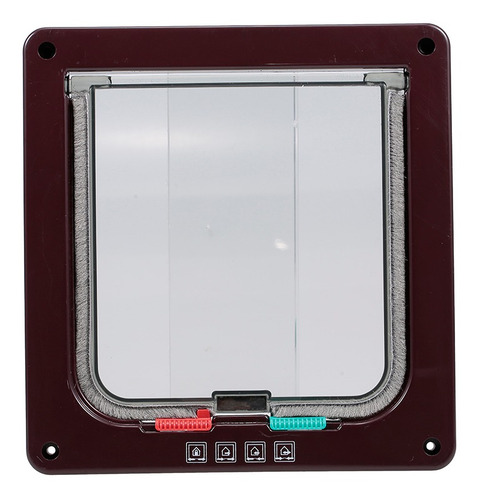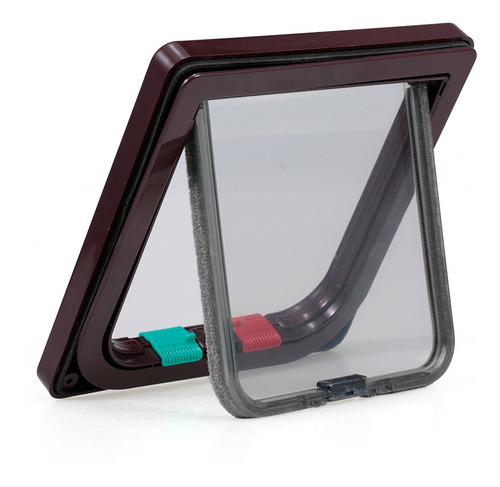 Descripción
Cat Door Pet Entry Safe Ferromagnetic Pet Flap Door 4 Ways Locking Automatically Close for Kitty Small Dogs

The pet door allows you to install a exclusive door into an interior or exterior wall or a people door. It processes a ferromagnetic snap and 2 sliding blocks to achieve pet access control. Made of professional manufacturer, it features polished inner frame edge and silent brush to ensure it would not hurt your fur babies. It is very practical and give your pet the freedom to come and go.

Features:
(4 Locking Systems)-The door have 4 modes by switching the 2 sliding blocks: IN Only, Out Only, Both In and Out and Fully Locked. It is very easy to control and give your pet the freedom to come and go.
(Automatically Close)-There exists a ferromagnetic snap. After your pet pass through the door, it will get closed automatically, which can preventing mosquitoes from entering the house.
(High Quality&Durable)-The frame is made of high quality ABS plastic with long-life use, while the transparent flap let pet see through the door.
(Considerate Details)-Inner frame edge get polished so as not to hurt cat. Screw reinforcement to prevent falling off and the silent brush allows it not to make noise.
(Easy to Install)-You can Install it into all types of doors, including glaze door and timber. It is easy to install following the step-by-step instructions.
(Suitable for Small Pets)-3 optional sizes for your choose and it is both suitable for kitty and small puppies, even a small dog can get through it.
(Easy Cut to Fit Walls)The thickness of Medium Size and Large Size door can be scaled to fit walls or people doors of different widths.
Any problem, please contact our store without hesitation. Honor to serve you.

Specification:
Item Name: Pet Door
Main Material: ABS Plastics
Optional Color: White/Brown
Item Size:
L: Outer Size: 25 * 23.5 * 5.5cm; Inner Size: 19cm * 18cm ( Length&Width); Chest Range:<60cm

Package Size: L: Outer Size: 26 * 24 * 6cm;
Package Weight: L: 454g
General box package.

Note:
* Please allow 1-2 cm difference due to ensures pets can get through the door.
* There could be a few deviations due to manual measurement or slight color difference owing to photographing condition. Thank you for your understanding.

Package List:
1 * Pet door
1 * Screw Kits
1 * Sponge Tape

**********************************************************************************************

*About the products:
All our products are brand new.
All our prices are in local currency.
The invoice will be attached in the package, but it is a proforma invoice and cannot be used for tax declaration.
We have our own factories and suppliers. Benefit from large-scale sales, we control the cost in a very low position, so the sale price of many of our products is not high.

*About the Shipping:
All of our products are shipped through international logistics (you can view the logistics information in the tracking number after purchase). Before buying, confirm carefully if you can wait about 20 days, as we need 15 to 25 days to reach the specified location. The exact time depends on the speed of the customs inspection- customs clearance.

*After-sales and feedback:
If there are any problems with your order, please contact us via the post-sale.
Please be more patient if we dont answer you in time. We will be responsible for all products with quality problems, and give you a solution.
Please do not leave a NEGATIVE RATING or CLAIM before we solve your problem.

All suggestions are welcome.

Preguntas y respuestas
¿Qué quieres saber?
Últimas realizadas
Querido amigo, sí, está en talla L. Tenemos stock disponible. Si lo necesita, puede hacer clic en COMPRAR AHORA para realizar la compra. W
05/06/2022
Denunciar