Tratamiento De Agua Tetra Safestart Plus, 3.38 Onzas, 100 Ml
Disponible 10 días después de tu compra
Medios de pago
Tarjetas de crédito
¡Paga en hasta 36 cuotas!
Tarjetas de débito
Efectivo en puntos de pago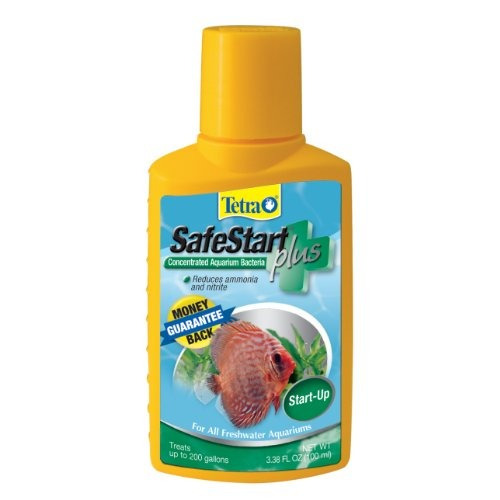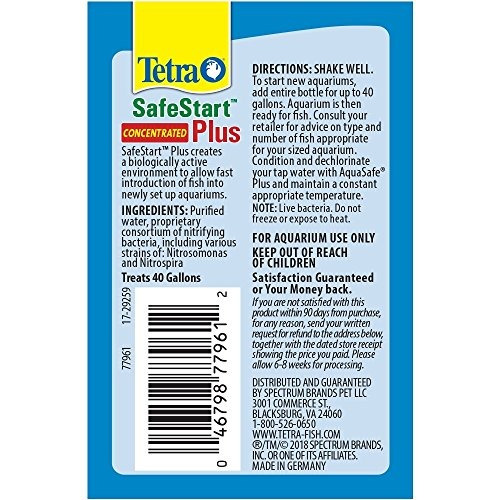 Descripción
------
------ YAXA
------


NOMBRE EN ESPAÑOL: Tetra SafeStart Además, para los recién puesta a punto acuarios de peces, 100 ml, 3,38 onzas.

NOMBRE EN INGLES: Tetra SafeStart Plus, For Newly Set-Up Fish aquariums, 100 ml, *****

Previene nuevo tanque de SÍNDROME acelera el establecimiento de bacterias saludables en acuarios de agua dulce de nueva puesta a punto.
reduce las toxinas Ayuda a eliminar niveles peligrosos de amoníaco y nitrito.
ACCELERATES DEPÓSITO DE CICLO ayuda a establecer un tanque saludable desde el principio para obtener resultados inmediatos.
comienza a trabajar de inmediato para proporcionar un ambiente saludable para los peces nuevos y sin una larga espera de acción rápida.
USO Treat cuando la creación de un nuevo acuario después de un filtro de agua o el cambio al añadir nuevos peces o después de la medicación.

Product Description
Tetra Start Zyme Fizz Tabs are fast-dissolving pre-measured tablets that make caring for your marine or freshwater aquarium water easy Tetra StartZyme combines all the benefits of a complete water conditioner to make your water immediately safe for tropical fish goldfish and marine fish It instantly neutralizes harmful chlorine chloramines and heavy metals to make tap water safe The Fizz Tabs stimulate the natural protective slime coat to reduce stress and help heal fish wounds Tetra Start Zyme also contains a safe blend of bacteria and enzymes to help establish the biological cycle and break down organic sludge to ensure a healthy and clean aquarium Add 1 tablet to each 10 gallons of aquarium water For aquariums 40 gallons or larger and for soft water and-or acid water with low alkalinity dissolve tablets before adding to aquarium Use Tetra Start Zyme when setting up new tanks making regular water changes or when adding new fish This product is safe for aquarium fish and plants when used as directed Since 1951 Tetra has developed the world s most comprehensive body of fish food knowledge and fishkeeping enthusiasts have looked to the brand for products and solutions that add ease and beauty to their home Whether you're an experienced hobbyist or just starting out Tetra has everything you need -from a large variety of quality fish food and innovative equipment to test kits and decor
*****
Start Your Aquarium Off Right:
Tetra SafeStart lets you instantly add fish without waiting the typical amount of time to establish the bio-filter. A patented bacteria blend works quickly to remove dangerous ammonia and nitrate so that you can get started immediately with your new aquarium. SafeStart is ideal to use when adding new fish, after medicating, and for all new aquariums.
Creating a healthy, safe aquarium environment for your fish from the beginning is important, so quickly establishing the correct water levels and helpful bacteria in the aquarium is why Tetra has introduced SafeStart. Its proprietary formula prevents New Tank Syndrome and accelerates the establishment of the bio-filter. So whether you're a beginner or a pro, be sure to use SafeStart when adding new fish to your aquarium.
How it Works:
SafeStart works by introducing all of the beneficial bacteria needed your new aquarium needs to thrive. New filters are sterile and take up to 30 to 40 days for bacteria to naturally form; this makes SafeStart an important first step in any new aquarium. Tetra grows actual aquatic bacteria that are naturally found in aquariums rather than low cost industrial bacteria from terrestrial strains as other products may do.
Proven Results:
SafeStart is scientifically proven to help keep dangerous ammonia and nitrate out of your aquarium. Simply add SafeStart to your new aquarium for immediately healthy aquarium water it really is that easy!
Bottle Size
Aquarium Size
***** oz
up to 15 gallons
***** oz
up to 30 gallons
***** oz
up to 70 gallons
Tetra Sets the Bar high in Water Care and Maintenance Treatments
Tetra sets the bar high in water care treatment and maintenance with a four-step, color-coded system. From aquarium start-up and routine maintenance, to trouble shooting solutions and testing, Tetra offers everything you need to keep your aquarium water healthy. Take a look at the chart below to see the full of Tetra water care treatments.
New Aquarium? Tetra SafeStart allows you to safely add fish to your tank immediately.
Use AquaSafe whenever adding water to neutralize chlorine and heavy metals. Use EasyBalance weekly to keep your water chemistry balanced.
High ammonia? Use AmmoniaSafe liquid or tablets. Cloudy water? Clear it up with WaterClarifier liquid or tablets. Algae issues? Keep in check with AlgaeControl liquid or No More Algae tablets.
Tetra EasyStrips make regular water testing a breeze.


---------------------------------------------------------------------------------------
Yaxa Tienda Oficial

Somos MercadoLider Platinum, visita nuestra Tienda Oficial accediendo a:
https://tienda.mercadolibre.com.co/Yaxa
Visita también nuestra sección de Regalos para Navidad:
https://listado.mercadolibre.com.co/juegos-juguetes/_eshop_yaxa

• TIEMPOS DE ENTREGA DE 6 A 10 DÍAS HÁBILES A CIUDADES PRINCIPALES •

• Envío Internacional •

----------------------------------------------------------------------------------------
• TIEMPOS DE ENTREGA DE 6 A 10 DÍAS HÁBILES A CIUDADES PRINCIPALES •

Vivirás la mejor experiencia de compra con Yaxa Tienda Oficial

• Garantía de Fábrica 30 días •
• Excepto por daños o defectos de fábrica, los productos de ropa, bisutería, lactancia, alimentación, perfumes, videojuegos, vitaminas, cosméticos, suplementos y productos de bienestar personal no tienen devolución •
---------------------------------------------------------------------------------------

Preguntas y respuestas
¿Qué quieres saber?
Pregúntale al vendedor
Nadie ha hecho preguntas todavía. ¡Haz la primera!